The essence of beautifying outdoor spaces relies on how well you can stylise it to better blend with your personal taste and preferences. When it comes to wooden gazebo or wooden pergolas, they serve as an empty canvas which you can beautify to make it more functional as well as aesthetic.
Here are some of Craft In Wood's favourite design tips to make your wooden gazebo and pergolas stand out by thoughtfully decorating these structures to make it more aesthetic and serves its functional purpose.
1. Personalise the theme of decoration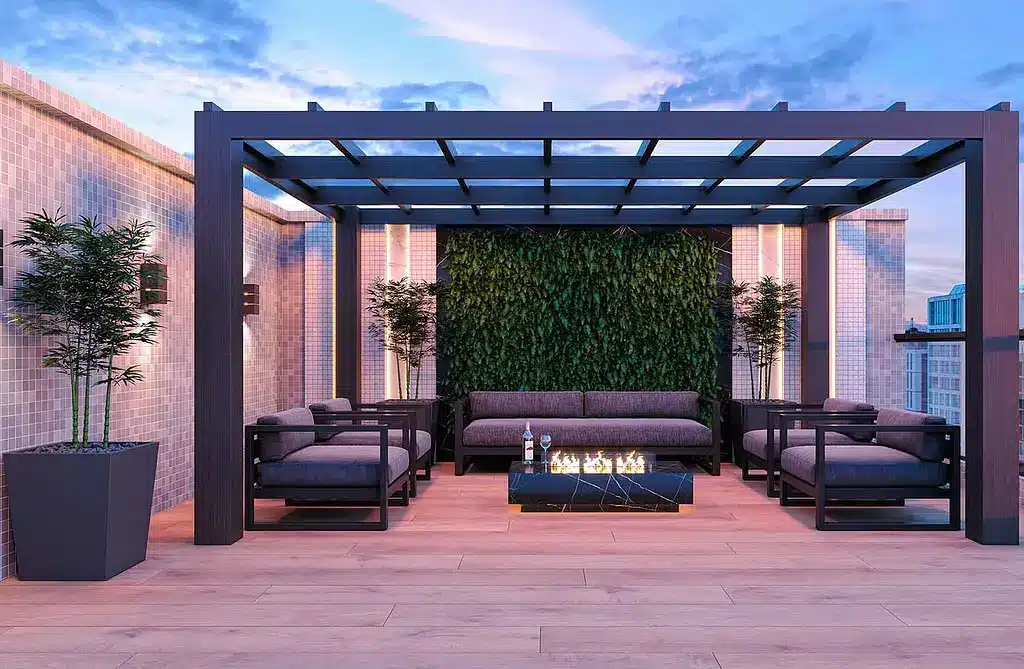 For making your wooden pergolas and gazebo stand out visually and form a beautiful structure, you need to decide the theme of it and better personalise it so that it reflects your style ideas better.
By personalising and setting the theme, it narrows down your choices and you can make better decisions on adding items that relate to the theme. Here are some suggestions –
Tropical Oasis is one vibrant and beautiful theme where you can stylise your wooden gazebo and pergolas into an luscious space with exotic decoration and beachy vibes.
If you prefer the cosy wooden aesthetics, you can style it with a rustic theme by keeping the wooden aesthetics visible and induce earthy tones and lamps.
For a modern and minimal look, induce minimal beige and white toned furniture with fewer items and a more contemporary feel.
Make sure the decor blends with the style of wooden pergolas and gazebo you have chosen. If you want to learn more about it, Visit our complete guide on it.
2. Add Furniture
Make Better usage of the purpose they were built in the first place, by customising the sitting areas and adding furniture to it. You can blend the colour of seating with the overall aesthetic or apply different colours to have a unique colour combination.
Outdoor lounge chairs and weather resistant benches are a popular options, Some other ideas such as swing seats and plush cushions are also good choices to make the seating feel more relaxed and comfortable while serving the purpose of elevating its whole look.
3. Lighting elevates its Ambience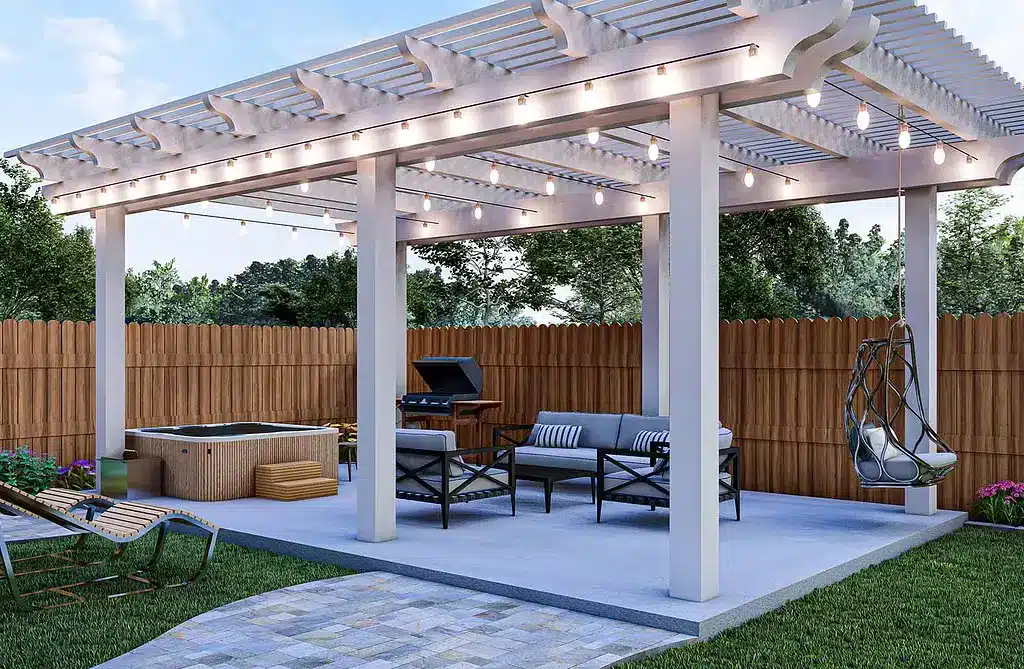 Even an inclusion of simple lighting can elevate the appearance of your whole pergola or gazebo at night. Lighting is important as it sets the ambience and makes your space become cosy and inviting to the guests.
You can incorporate a series of lighting, by stringing/draping them to create a bright romantic look. Add decorative lanterns or lamps in the corner pillars, or using LED Strips for brighter and modern lighting solutions with more customisable options. You can also incorporate lighting to your nearby trees or garden arbors for a complete night outdoor experience.
4. Integrating Greeneries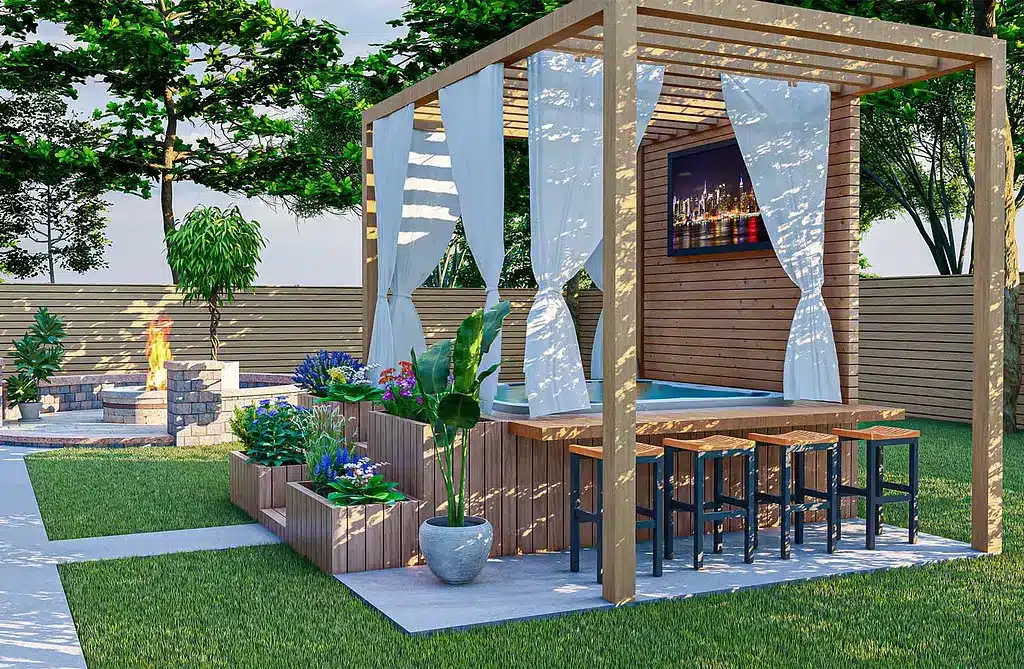 Being a part of the complete outdoor experience, a little touch of greens to it will blend it better to its surroundings and make it a cosy and mesmerising corner to have your perfect family moments in! Using different wooden gazebo garden ideas or wooden pergolas plant decor can make the whole appearance come together and elevate its looks.
Incorporate potted plants with thriving leaves to add character to it. You can also use hanging vines, which is one of the popular options. Climbing plants and vines can be trained for a lush natural canopy.
5. Add Character with inducing Accessories
Accessories are one of the best ways to add personal character while decorating it. It makes your outdoor space feel truly yours! Here are some ideas that you can induce in for decoration.
Add colourful cushions to pop out colours, Rugs to make it more warm feeling for underfoot and cosy, Decorative pillows with unique textures and patterns that stand out and blend with the overall theme. You can also incorporate structures and artefacts in Wooden gazebo to fill in the space
Conclusion
With a bit of thoughtful thinking and deciding your theme, Decorating your wooden pergolas and gazebo is an excellent opportunity for you to showcase your creativity and make your outdoor living a memorable and fun experience!
Incorporate a particular theme and you can also mismatch accordingly. Use weather resistant materials so that your items can survive different seasons and induce elements that better suit your aesthetics and personal style.
Looking to build your own outdoor luscious sanctuary? Reach out to the design experts at Craft In Wood and we can elevate your outdoor living experience! Contact Us and get your free quote!