SYDNEY TIMBER FENCES & TIMBER GATES OF THE HIGHEST QUALITY
They say first Impressions last. The same is true of your property. If you are renovating your property, landscaping, building a new house, or improving all-around security, Craft in Wood can help you select timber fences and wooden gates to match the style of your property. Craft in Wood specialises in both modern and traditional timber fence & gate designs. We are a local, family-run business. Our wooden fences & gates are made to measure and are specific to your property. There is no need to compromise on quality or appearance, get the fence or gate you want for your unique property.
Timber fences & gates really create a kerbside first impression statement to the appearance and entrance of your property whilst also improving all-round security. Don't take our word for it, take a look at our gallery. Craft in Wood has been creating these looks for almost 50 years.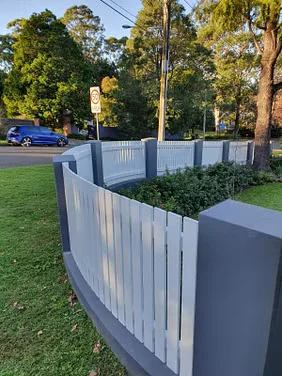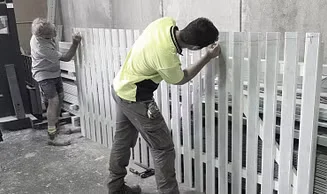 Craft in Wood is your go-to destination for outdoor joinery in Australia. Our extensive selection of high-quality products is designed to last a lifetime, and we pride ourselves on delivering exceptional craftsmanship for all of our mortice and tenon gates. Our gates are engineered to meet the highest standards of durability, making them suitable for a wide range of applications, including large driveway gates, pedestrian gates, and side gates for your home. Whether you're in search of a classic solution for privacy and security or a contemporary design, our mortice and tenon framed gates can be customised to your exact specifications. Trust Craft in Wood to provide you with the best outdoor joinery solutions that are both stylish and functional. Contact us today to learn more about our products and services.
Craft in Wood manufactures our products at our Hornsby workshop and most of what we do is prepared there prior to installation onsite. We take pride in employing local staff for the production and installation of our timber products, meaning that the customer is actively engaging in the local economy.
Fence & Gate Considerations
Here are some things for you to consider when designing your timber fence or gate:
Dimensions & Surrounds
Height – Council requirements may need to be considered for your fence or gate
Obstructions and constraints such as services crossing the boundary from the street (buried and overground)
Bushfire Zone
Heritage or Conservation Area
Style of property and streetscape
Timber Selection
Hardwood or Softwood
Hardwood Timber – Selected from timber such as Spotted Gum, Merbau and other hardwoods. Best for oiling or stained
Design Pine Timber – Plantation Grown Timber with many profiles to choose from. Best for Painting
Fence or Gate Style
Pickets – plain, decorative, or federation styles
Tongue and groove boards for both fences or gates
Balustrades – For a more modern style of fence. Other profiles are available
Horizontal Timber Boards / Slats – for modern fences and gates
Vertical Timber Boards / Slats – for modern fences and gates
Finish
Painting or Oiling – To get that statement finish to match the character of your property
Hardware & Fixings
Selectable locks, hinges, rising hinges for where the driveway rises, down bolts and other client specific gate furniture e.g. property number
Optional Extras to Stand out from the Crowd
Automation of your gates – either swing, sliding or folding gates. All of our gates are mounted on steel frames so that the gate shape remains rigid and the movement from the automation system does not misalign the gates
 Feature Lighting to compliment your fences & gates
 Intercom systems – Audio or Video intercom systems
Arbour across the top of your gates to make that lasting impression