HIGH QUALITY ELECTRIC GATE AUTOMATION
Overview of Electric Gate Automation
When you automate driveway gates, not only will your home be more secure, but the value of it may also increase. For instance Craft in Wood gates have been providing homeowners with well-crafted and designed pieces for nearly 50 years. Adding in automation has helped homeowners improve their security even further by making it easier to control access with a click of a button.
With so many people looking to buy homes these days – both new owners as well as those who are interested in upgrading/remodeling an existing property – this can make all the difference when trying to protect what matters most: family and friends.
Automation systems are available to add automation capability for wooden gates that have not been automated previously. Creating automation systems for the gates on your property is now easier than ever. Whether you want to automate existing or add new, our team can help create a gate that will suit your needs and be perfect for any occasion!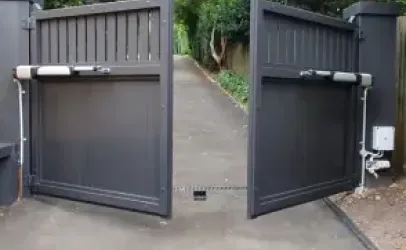 The most common solutions for the automation of driveway are
Automatic Swing Gates
Ideally, Automatic swing gates are installed to open inwards away from the public highway, but due to site constraints such as a rising or inclined driveway, it is possible to install a swing gate that opens away from the property or by using rising hinges. If the automatic swing gates are to be set to open outwards, there will need to be sufficient clearance to avoid striking vehicles and that the gates do not obstruct the public highway.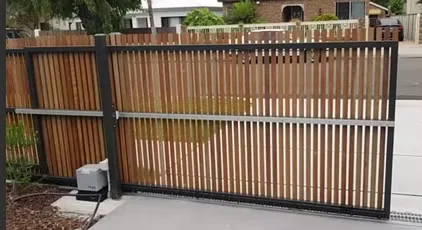 Automatic Sliding Gates
Automatic Sliding Gates are a really good alternative to swing gates, especially where space is limited or restricted. Automatic Sliding Gates are ones that either slide to one side of the entrance or a bi-sliding gate where each gate slides on each side of the entrance All Craft in Wood gates that are fitted with gate automation are built with steel frames to strengthen the gates to support everyday automation. Hinges for swing gates are welded to the steel frame.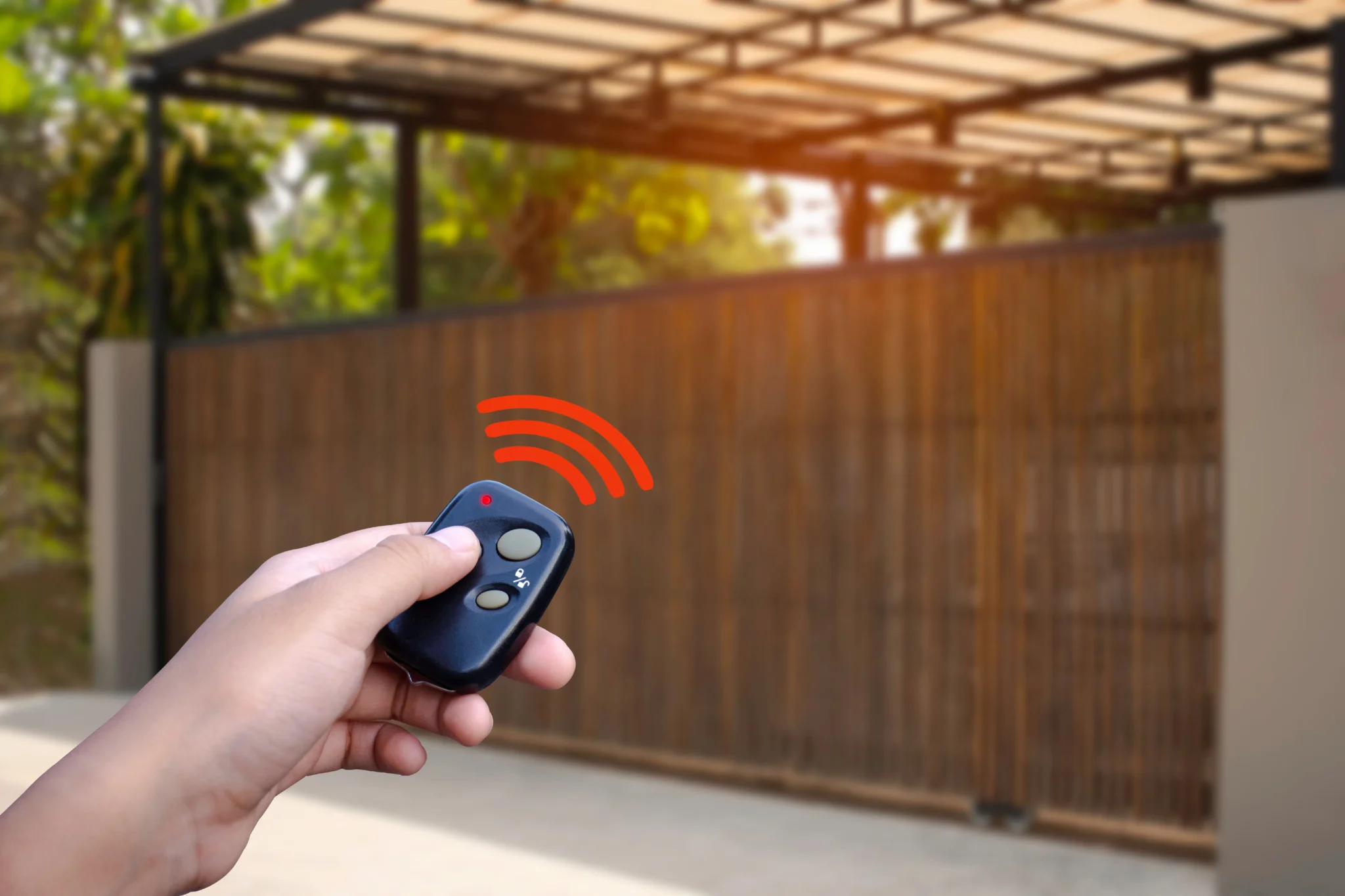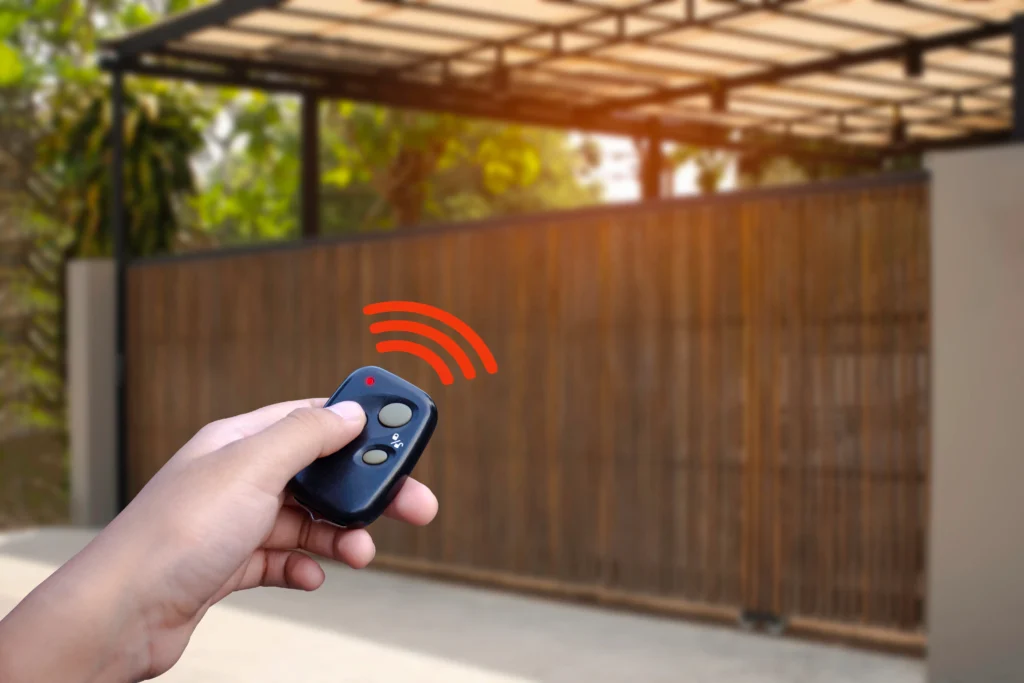 Features & Options for Gate Automation Systems
Remote Control Operation
Variable Time based Automatic Closing
Partial opening or single gate opening
Manual Release Keys – in case of power failure
Limit Switch Operation or Physical Ground Stops
Optional Management for the adjustment of open/close speeds and slow down
Optional Battery Backup – in case of power failure
Optional detectors – Photo beams or loop detectors to prevent closing if there is an obstruction in the driveway
Options to Integrate with other systems such as electric locks, keypads, mobile phones, lighting and intercom systems
Options to operate via bluetooth
Driveway Gate Automation FAQ's
Should I go for a single driveway gate or a double gate?
It is recommended that if the opening is anywhere larger than about 3.5m, then to manage weight and forces on the gate automation, a double swing gate or sliding gate should be chosen.
How wide can driveway gates be?
Typically driveway gates start from being about 2.5m wide and can be up to 5 meter's wide, sometimes even wider, depending on the application. A typical household driveway is between 2.5m and 4m wide
What are the different types of automatic driveway gate systems?
There are many types of automatic driveway gate openers, but the main ones are:
Single swing
Double swing
Single direction sliding
Double direction sliding (that is 2 gates that slide open away from each other)
Contact us for options or see our gallery of work we have done
What are the advantages of installing automatic driveway gates?
Operating automatic gates on your driveway allows you the property owner to manage and restrict vehicle access to your property. Meaning that you, your family, your house, and your possessions will be more secure.
What happens to electric gates in a power cut?
In the unlikely event that power is lost, then a good quality system will have a manual key override to open or close gates. There are also battery backup options as well as solar power options. Contact us for more details
Can you change manual driveway gates to automatic gates?
In most instances, your existing driveway gates can be automated. Contact us for more information and a free quote
What is the typical lifespan of automatic gate motors?
From our experience, if the gate motors are routinely maintained, then 10 – 15 years is not out of the ordinary. All CIW supplied gate automation systems come with a 3-year warranty.
What is the cost of operating automated gates?
Operating automated gates is usually affordable since they spend a significant amount of time in standby mode. However, the frequency of gate usage directly affects the operating cost, as the more you open and close the gates, the higher the cost. In residential applications that's usually only a handful of times per day and so can be considered insignificant
Can existing driveway gates be automated?
Automating your existing driveway gates is possible in the majority of cases. To learn more and receive a complimentary quote, please don't hesitate to contact us.
Do automatic driveway gates add value to property in Australia?
There are many items that add value to properties in Australia and gate automation along with the added security benefits certainly adds value and a higher level of privacy.
Are there disadvantages to having automatic driveway gates?
There are very few disadvantages of having an automatic gate, however, the following should be taken into consideration
Cost to run (electricity), though this is low
Routine maintenance, whilst they can be kept as fix when fail and should be fine, it is recommended that maintenance inspections should be carried out yearly
Loss of power will mean that you will have to use the manual key override to open or shut the gate until power is restored. There are battery backup options these days to overcome loss of power (until the battery runs out, or power is restored)
Visitor inconvenience, but that is outweighed by the additional security automatic gates provide
What is the best brand for automatic driveway gate openers?
Our supply partners are BFT or Beninca. Links to their website and products can be found in our supply partner section. Craft in Wood driveway gate automation comes with a 3 year warranty
Do you need planning permission for automatic gates?
If you have existing gates, then in most instances you will not need council planning permission. If you currently do not have gates across your driveway, then its worth checking with your local council if planning permission is required. If council require you to provide some drawings we can produce these for you. Please contact us for a quote